03 มี.ค. - 16 เม.ย. 2566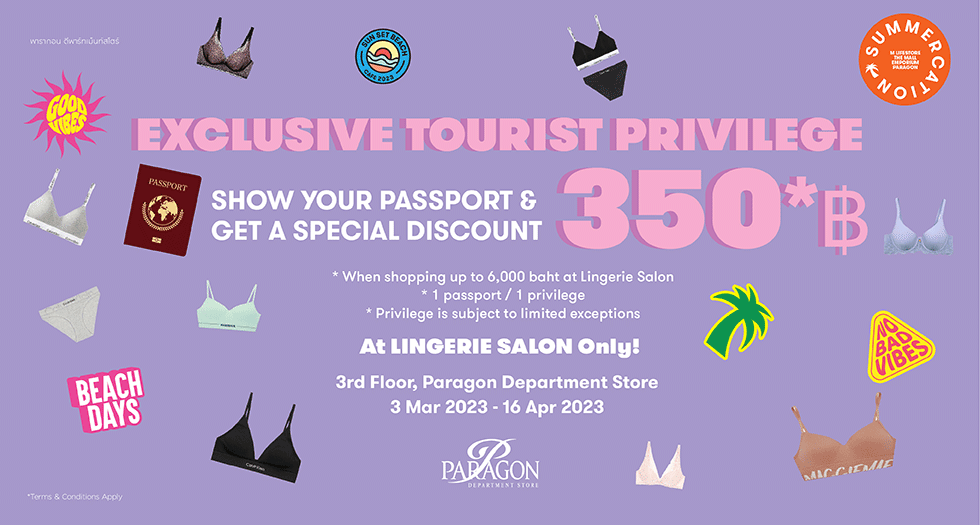 EXCLUSIVE TOURIST PRIVILEGE
SHOW YOUR PASSPORT & GET A SPECIAL DISCOUNT 350* Bath
At LINGERIE SALON Only!
3rd Floor, Paragon Department Store
Date: 3 Mar 2023 – 16 Apr 2023
Terms & Conditions for receiving the discount
- With a minimum purchase of 6,000 baht in the Lingerie Salon department at Paragon Department Store or Emporium Department store, just show your passport at the cashier counter to get a 350 baht discount.
- This discount can only be used at Paragon Department Store and Emporium Department store, in the lingerie salon department only.
- This discount is limited to 100 privileges per branch during the Summer Cation campaign, from March 3, 2023 to April 16, 2023 only.
- This discount is available at the cashier counter only.
- This discount cannot be used repeatedly – only 1 passport per 1 redemption throughout the campaign.
- This discount can be used at the above mentioned branches, during eligible dates only.
- This campaign is for foreign customers only.
- This discount cannot be converted to cash.
- The Company reserves the right to change or adjust the promotion details without prior notice.
- Please check the additional terms and conditions at the point of sale.