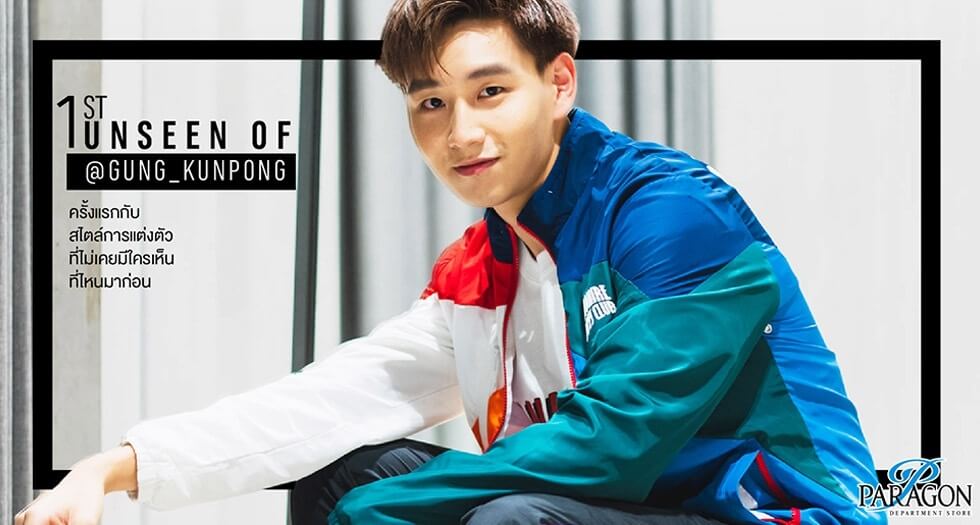 1st UNSEEN OF @gung_kunpong
Today we're going to talk to a very cute star, 'Gung Kunpong Kulthanaruengnon'. Many girls may know him as the Most Eligible Bachelor, 2018. With his fashionable Korean style, it is undeniable that he looks like a real catch. Today we made an appointment with him at Paragon Department Store because we have something fun for him to try. We'll let him mix and match 3 styles of outfits that none has ever seen before and we'll update his overall style as well.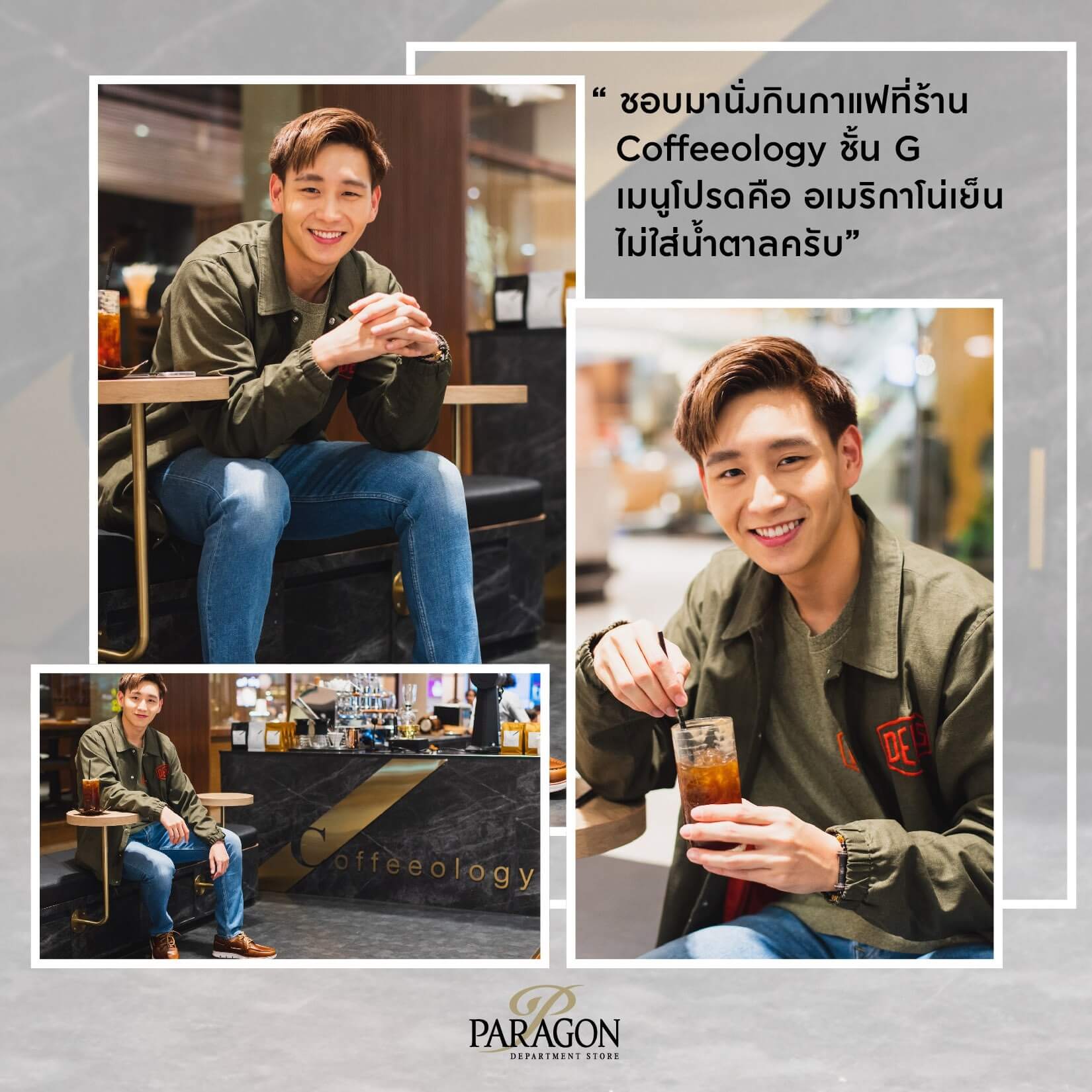 Q: What do you like doing in your free time?
A: Actually, I look for a tasty meal and then chilling out at a café with a nice cup of coffee.
Q: Where do you spend most of your free time?
A: I usually go to Paragon because I partake in many events here. I also love chilling out at Coffeeology on G floor. My favorite drink is iced americano with no sugar. I think sweet coffee quite weird (laughing) because I haven't eaten anything sweet for a while.
Q: Let's say you spend a whole day at Paragon… What do you do?
A: Ah… I normally come here and read from 10 am. to 10 pm. Otherwise, I just sip a coffee and chill out. Then I meet up with friends and we enjoy delicious meals together because my favorite restaurant is here; "Baan Ice", a southern Thai restaurant. I really love southern food.
Shop for this look at:
Deus Ex Machina, 2F, Men Intrend
Timberland, 2F, Men's Shoes & Bags
Q: What did you do when you came to Paragon the first time?
A: My first time? That was when I was in upper secondary school. At that time, I had to take a university admissions test, so I needed to take tutorial lessons around here. After that, I often came here to shop with my friends.
Q: What's your most memorable event at Paragon?
A: It's a good one. It was after finishing the admissions test and the scores were about to be announced. I was quite stressed, so I came here to chill out. Unexpectedly, the scores were released. So I checked my results on a website and saw that I passed the test! I was very glad. It's a moment I'll never forget.
Q: How would you describe the "Gung" clothing style?
A: As everyone knows who sees me on Instagram, I love Korean fashion. I like to wear an oversized top, or an ordinary one, and high-waist trousers with wide legs to get a vintage look.
Q: What's your favorite brand?
A: Right now I don't have any particular favorite brand. Actually, I'd like to tailor my own clothes. I'd like to design my own clothes and have a tailor custom-make them for me exclusively.
Shop for this look at:
Beams, 2F, Men Intrend
Keen, 2F, Men Intrend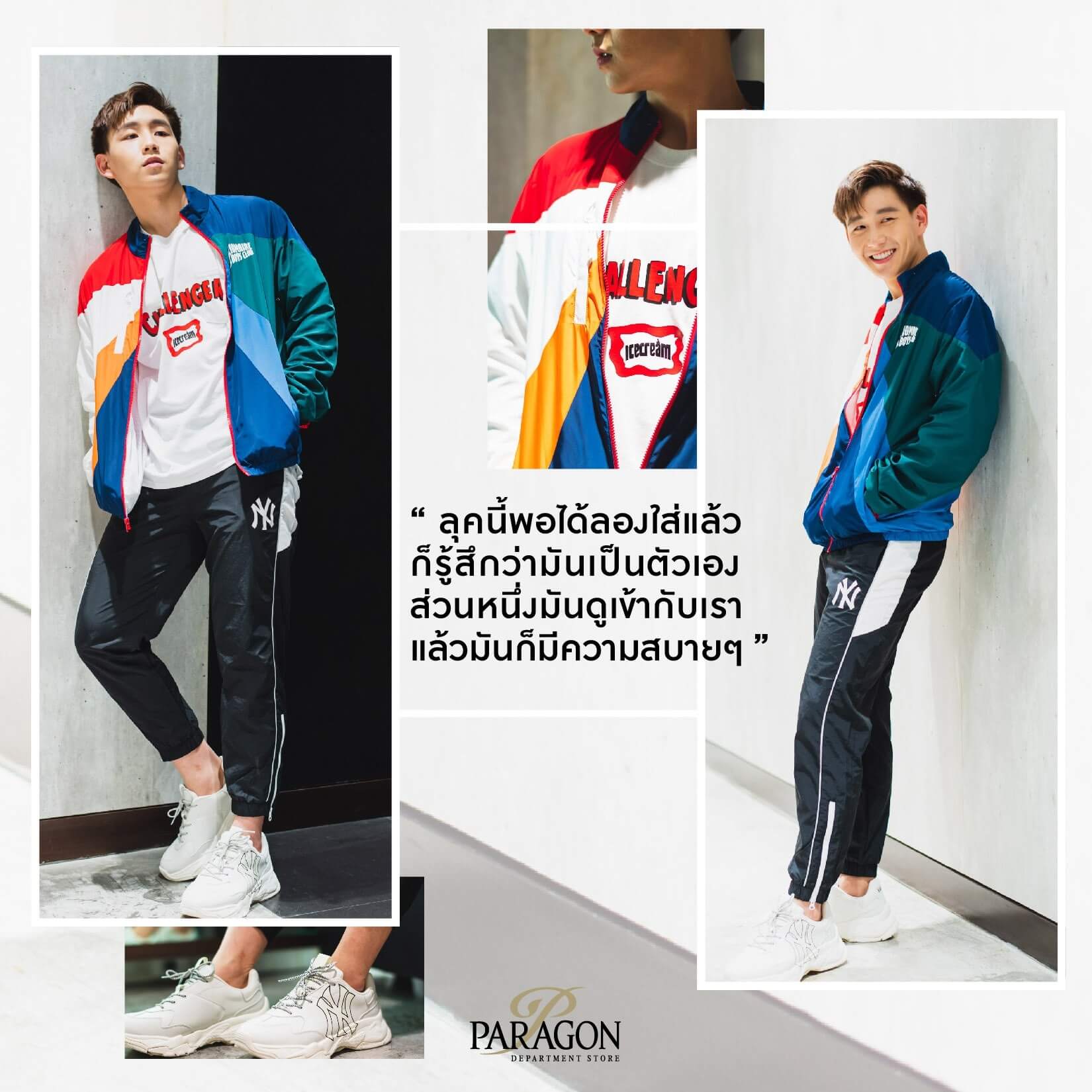 Q: What's the look you've never used or rarely wear?
A: Maybe an adventurous style like "Tik Jesdaporn". I hardly wear high ankle boots because I feel strange and think they don't suit me.
Q: Let's talk about today's 3 mix-and-match looks you've never tried before.
A: I'd like to call the first one "Tik's look". I match an olive green jacket with a tee and jeans from Deus Ex Machina. Then I wear Timberland boots. Others will immediately recognize that this is Tik's look.
The second look I've chosen is street style. I match black sporty trousers from MLB, a street style tee, and a colorful sporty jacket from Billionaire Boys Club. I also wear white oversized sneakers from MLB. This is a look I seldom wear.
The last one is similar to what I frequently wear, like a big tee. I just add something a bit more by matching very vibrant colors, a jacket, and blue sports trousers. All of them are from Beams, while the orange shoes are from Keen which is a popular brand right now. I selected these shoes to add more fun to this look.
Q: Which one of these 3 looks do you like the most?
A: I'd cut the third one first because it's the look I mostly wear. I love the street style most because when I try it on, I feel it represents the real me. It looks good on me and big shirts and big trousers are comfortable to wear.
Shop for this look at:
Billionaire Boys Club, 2F, Men Intrend
MLB, 2F, Men Intrend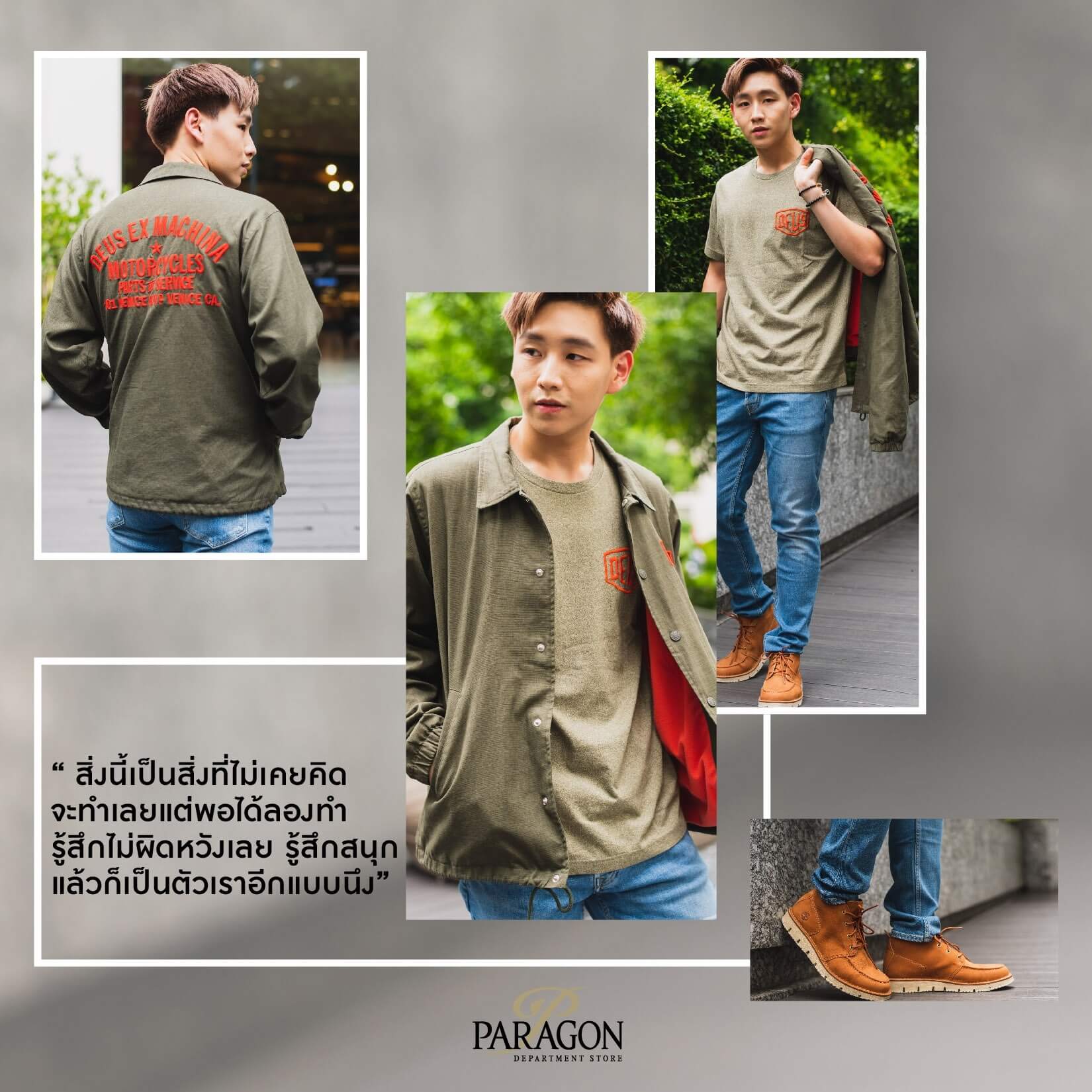 Q: What was the first job that made you popular?
A: Other than my work in this entertainment industry, it's when I was a cheerleader in a traditional football match. My photos were widely shared and I became known. After that, I was given an opportunity to work in this industry.
Q: What's the first thing you had never done before, but now, never regret doing it?
A: It may have been the chance to work in this industry. I used to act in music videos. It's something I'd never thought I'd do. But when I tried, I didn't feel disappointed. It's fun, and I could present another side of myself.
Q: What would you do if you weren't working in this industry?
A: I might work in a field related to my studies. Since I graduated in Financial Administration, I could work as a financial analyst for a bank.
Q: What's the one thing you've never done before and would like to try in the future?
A: It's acting, because I've never acted in a drama or a movie. So I'd like to try it once.
Q: How can we follow your channel and your work?
A: Anyone can follow me on Instagram at @gung_kunpong. I use the same name on Twitter too. Please follow this content because it's about the styles I've never used before, or no one has ever seen before. So I'd like everyone to see if they suit me. In the near future, I'll be an MC for a program on YouTube. Please follow me there, too.
Shop for this look at:
Deus Ex Machina, 2F, Men Intrend Department
Timberland, 2F, Men Intrend Department