TOURIST PRIVILEGES

游客特殊优惠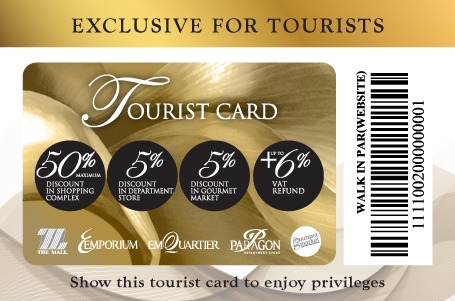 TOURIST CARD
1.Receive 5%* discount on regular priced merchandises in Department Store, Gourmet Market, Selected Thai Designers, Sport Mall, Another Story, Another Man Story and The Shop (Spa products only).
2.Receive up to 50%* discount from participating shops in the Shopping Complex at Emporium and EmQuartier
3.Receive up to 6%* VAT Refund.
*VAT Refund Application for Tourist Form (P.P.10, E-P.P.10)
4.Discount is not applicable for Pharmacy, Liquor & Wine Cellar, Food Hall, Take Home, Gift voucher, Gift cards, Top-up cards, partial deposit, service shop, rental shop, M-online, M Chat&Shop and delivery fee.
5.This card is not applicable when in use with other promotional campaigns or special discounts.
6.The company reserves the right to any change without prior notice.
7.For more information, please contact
PARAGON DEPARTMENT STORE : +662-690-1000
*Terms and conditions may apply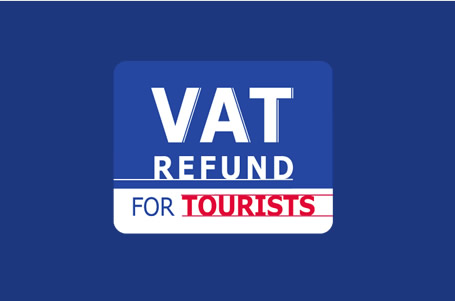 VAT REFUND
CLAIM |申报
VAT Refund can be claimed with the minimum purchase of 2,000 THB per store per day
单日消费达2000泰铢即可申报退税
APPLY | 如何申请
Present your receipt(s) and passport at the VAT Refund counter to fill out the form on the day of purchase only
单日消费后凭借护照和小票在增值税柜台填写申请表
CONTACT | 联系方式
VAT Refund Counter on GF and 1F - 4F
TEL : (+66)2 690 1000 (Operator)
增值税退税柜台位于G层以及1-4层
电话:(+66)2 690 1000
For Shopping Complex, please contact each participating shops and business establishments
关于品牌中心,请联系参与活动的商户以及供应商
TOURIST CARD
Hand-free shopping
Hotel Delivery
Customer Service Counter (GF - 4F)
Lost & Found (GF)
Baby Stroller (GF, 3F)
Delivery Service Counter (MF, 1F, 3F, 4F)
Baby Care Lounge (3F)
Tourist Lounge (GF)
Wheel Chair (Tourist Lounge, GF)
CURRENCY EXCHANGE SERVICE
Available at GF, MF, 1F, 3F, 4F
CUSTOMER SERVICE
TEL : (+66)2 690 1000 (Operator)
便利购物

酒店接送

顾客服务中心 (G-4层)

失物招领 (G层)

婴儿车 (G层, 3层)

物流服务 (M层, 1层, 3层, 4层)

母婴服务 (3层)

游客休息区 (G层)

轮椅服务 (游客休息区, G层)
货币兑换
位于商场G层, M层, 1层, 3层, 4层
客户服务
电话 : (+66)2 690 1000
VAT REFUND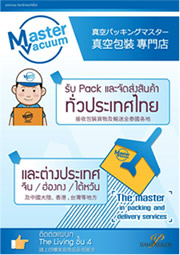 Master Vacuum
The new packing and delivery service located in The Living Department, 4F, Paragon Department Store.
Master Vacuum offers the delivery both domestically and internationally to China, Hong Kong and Taiwan.
真空包装大师
全新的包装服务已经上线,位于暹罗百丽宫 商场4楼的生活服务区。
真空包装大师将为您提供真空无尘包装, 保证您的商品能够安全到达全球任何国家 和地区,中国,中国香港,台湾。